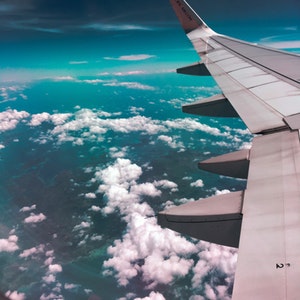 A recent study revealed that young adults are more interested in spending money on experiences rather than material goods. In the study, 43 percent of respondents reported compromising on their daily expenses to save money for travel. One of the positive effects of globalization is young people have greater exposure to different cultures in different parts of the world and want to learn more about them.
However, travel isn't just for the young. Retirees have long enjoyed the pleasure of seeing the world once they stop working and have more time. If we can help you create a retirement income strategy and develop more confidence about saving and budgeting for retirement travel, please give us a call.
If you're planning on flying later in the year, be advised that the Department of Homeland Security will require travelers to show a Real ID to fly within the United States starting Oct. 1. Many states now issue a Real ID-compliant driver's license. Other acceptable forms of identification include a state-issued enhanced driver's license, valid passport or U.S. military ID.
If you plan to travel abroad, consider registering for a Smart Traveler Enrollment Program (STEP) online account with the U.S. State Department. Your personal information and travel plans will be enrolled with the nearest U.S. Embassy or Consulate while you are out of the country. Either entity can provide information about safety conditions in your destination country, contact you in an emergency, and help family and friends get in touch with you in an emergency situation. You can register at https://step.state.gov.
The annual Berkshire Hathaway Travel Protection study revealed that the safest place to travel is Australia (this study was likely conducted before the recent bush fires). Other top safety destinations include Sweden, New Zealand, Italy, the Netherlands and France.
In terms of airlines, AirlineRatings.com selected Quantas as the world's safest airline for 2020; it is also the world's oldest continuously operating airline (99 years). Second- and third-place spots were claimed by Air New Zealand and EVA (Evergreen Airways), which is based in Taiwan and has a "spotless safety record."
Moving forward, industry experts say the newfound interest in travel has created new challenges, as well as innovative solutions. According to the World Economic Forum, international air arrivals are expected to increase 50% between 2016 and 2030. However, the world's airports do not have the capacity to handle this level of growth. One way to process flyers more quickly is a new test pilot program called Known Traveller Digital Identity (KTDI). This process enables travelers to fly without a passport between international destinations using only their mobile phone for identification purposes. Biometric technology, such as fingerprinting and facial recognition, will be utilized to move passengers along in faster transit lines.
Ready to Take The Next Step?
For more information about any of the products and services listed here, schedule a meeting today or register to attend a seminar.