Are We Back To Normal Yet?
---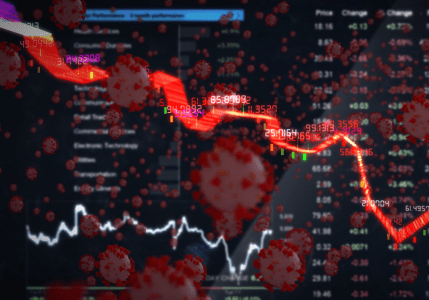 It's been two years since COVID-19 hit U.S. shores, but are we anywhere near pre-pandemic normal yet? It doesn't look like it.
The stock market, while volatile, recovered nicely from the initial shock and sustained overall performance for much of the pandemic, until recently. One contributing factor appears to be inflation, which has been rising in recent months to higher levels than we've seen in years.
There's a lot of debate as to why that is happening. Some economists say the inflation is pandemic related, given ongoing issues with supply chains, inventory shortages, the labor market and higher wage demands. Others have observed that, based on CEO comments on earnings calls and recent financial statements, prices are being artificially pushed higher to take advantage of the pandemic excuse for inflation.
In fact, both of these trends could be contributing to higher prices. Although companies may be raising prices now, their revenues will likely plateau as the Federal Reserve increases interest rates and spending cools down. The reality is that Americans are paying more for a plethora of consumer goods, both stapes and discretionary items. As an investor, one way to view this is that you might pay more at the grocery store and gas station, but you can potentially earn more in your portfolio by investing in those same companies that have raised prices. If you'd like a professional review of your current holdings and asset allocation, please feel free to contact us.
Unfortunately, February stock prices stopped keeping pace with previous performance levels throughout the past year. Paying higher prices while watching your portfolio balance drop can be a hard pill to swallow. The important things to remember are how you're spending your money and what you want your portfolio to achieve long term. To that end, there are two key habits on which to focus:
Never be a spendthrift. Pay a reasonable price for the goods you want. If they are overpriced for the value they provide, consider switching brands or eliminating them altogether if possible. There are certain things — such as cars and houses — that if you overpay for now, you may not see a good return on your investment.
Focus on your investment goals. If you're saving for retirement that's five years or more away, don't get too wrapped up in day-to-day market fluctuations. Make sure your portfolio maintains a strategic asset allocation designed to meet your goals both when you retire and throughout your retirement. If you're saving for college, a house, or some other shorter-term goal, keep an eye on your timeline and make allocation adjustments as needed.
However, a daily obsession with checking stock prices is not productive. It's better to focus on your weekly grocery tab or utility bills. Think about ways to reduce those expenses in the long term.
And beyond that, trust in America's capitalist principles and the long-term performance of the investment markets. They rise and fall, providing opportunities for consumers, workers, and investors to benefit when prices are low, and profit when prices are high.
It may not feel like it sometimes, but these highs and lows are our normal — pandemic or not.
Ready to Take The Next Step?
For more information about any of the products and services listed here, schedule a meeting today or register to attend a seminar.